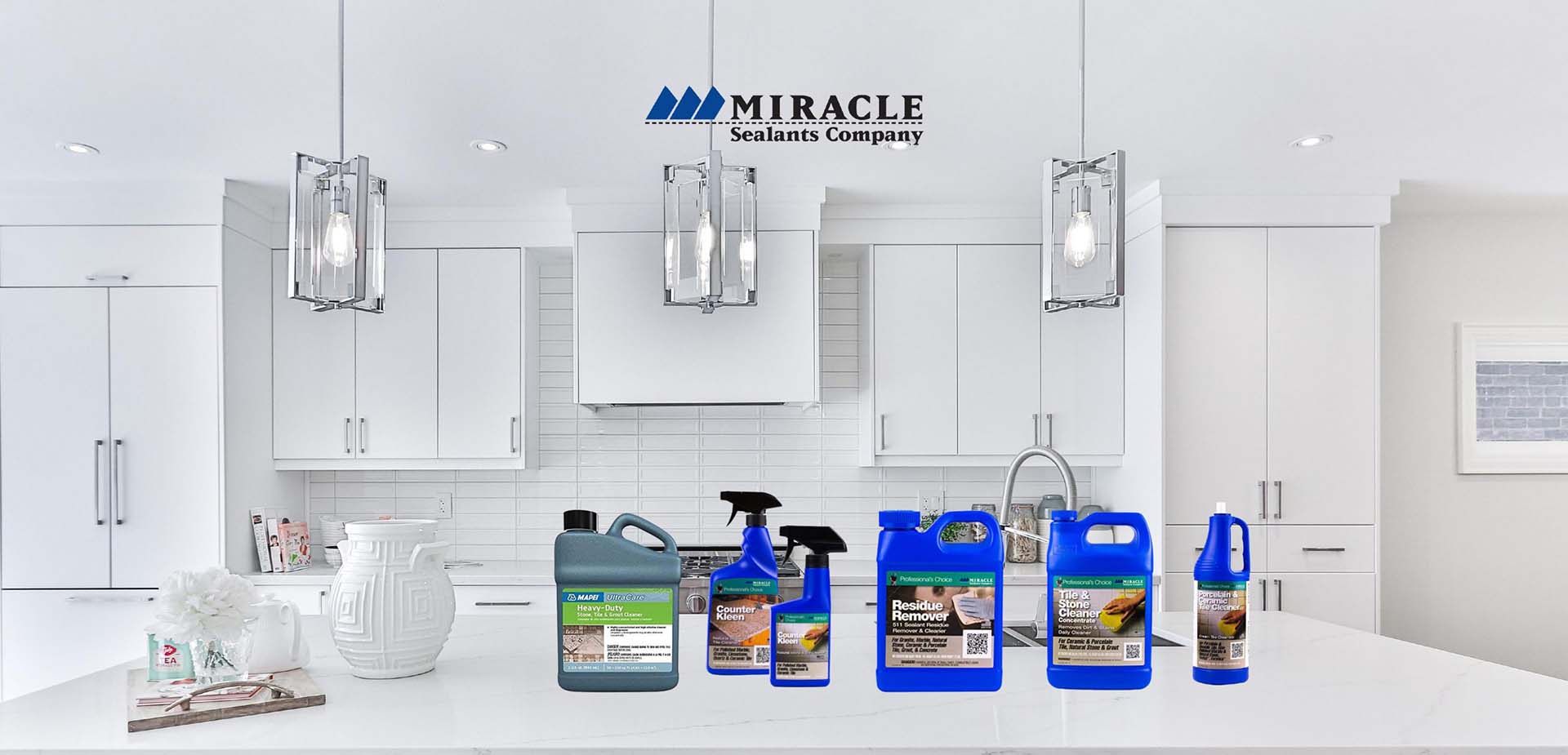 High Quality Care
We carry a full-line of Miracle Sealants Company products to care for and treat stone surfaces. Below are our recommendations on how to protect and maintain your stone so that its natural beauty will last for years to come.
ALWAYS TEST A SMALL, OUT OF VIEW AREA FIRST TO ENSURE DESIRED RESULTS.
Unpolished
These are our recommndations for unpolished surfaces.
LIGHT CLEANING
Dilute Mira Clean #1 15:1 with water (you can go stronger if necessary).
Spread out on surface and agitate periodically with a medium bristle brush for approximately 10 minutes.
Extract all dirty and standing liquid with a wet/dry vacuum system.
Rinse with clean water to avoid streaks and to remove any remaining residue. ​
For added color enhancement, apply 511 Seal & Enhance or Mira Matte color enhancer as needed. This is an optional step and not required for longevity of the stone
LIGHT CLEANING TO ADD PATINA
To slowly add some natural patina to the stone and give it the worn-in look for a vintage feel, we recommend the following:
Dilute Mira Soap 10:1 with water and use as directed on the packaging.
DO NOT rinse this product, as it is a natural stone soap that reacts with the surface to create a protective film that will enhance the natural patina.
HEAVY DUTY CLEANING
Wet surface.
Use Grout & Concrete Film Remover (GCFR) or Sulfamic Acid Crystals diluted 15:1 with water and let stand for 1 to 5 minutes and agitate with a medium or to hard-bristle hand brush for the grimiest parts.
Extract all dirty and standing water with a wet/dry vacuum system.
NON-ACIDIC HEAVY DUTY CLEANING
If the surface is just dirty from prolong normal use and does not have any real strong stain or grime stuck to it, we recommend going with a non-acidic product. Non-acidic products are generally easier to work with and safer for the environment.
Use Liquid Poultice to lift stains and dirty out of the pores of the stone. Use Part A and Part B per the instructions and allow it to stand for approximately 40 minutes, while agitating periodically with a medium-bristle brush.
​Extract all dirty and standing water with a wet/dry vacuum system.
HARD WATER DEPOSIT AND SOAP SCUM
Squeeze Porcelain & Ceramic Tile Cleaner onto a scrub pad or rag and buff in circular motions. For larger areas, apply directly to the surface and work in with the appropriate floor mop or machine.
Rinse with clean water.
MOLD, MILDEW AND BACTERIA SANITATION
Use Miracle Disinfectant or Miracle Wipes. These products can be used in food and kitchen counter areas, as well as in the shower and bath as frequently as is necessary.
COUNTER CLEANING
For kitchen and bathroom counters use Counter Kleen, a non-toxic cleaner that is sprayed onto the surface, as is necessary. It will keep the counters clean without streaking.
Polished
For Polished surfaces, all of the recommendations for Unpolished surfaces apply, but there are some additional steps and some different products needed when dealing with certain abrasions.
ETCH AND WATER RING REMOVAL – WEAR GLOVES!
Sprinkle a light amount of Water Ring & Etch Remover onto the affected surface and buff in circular motions using a wet nylon buffing pad, making sure the surface stays wet throughout the process.
Wipe with a clean dry towel. Multiple applications may be needed to achieve the desired results.
Rinse the surface with Mira Clean #1, diluted 10:1.
If the surface is badly marred, use the Miracle Marble Refinishing Kit.
SCRATCH REMOVAL AND RESTORING FACTORY POLISH
Rinse the surface with Mira Clean #1, diluted 10:1.
If the surface is badly marred, use the Miracle Marble Refinishing Kit.
For light scratches and etch marks, use Mira Polish, Mira Dust or Marble Conditioner. If the area is really worn, start with Mira Hone. If you are still not getting the desired results, please call us to discuss the problem and if necessary, we will recommend a stone care professional to come and handle the restoration.
TESTIMONIALS
We Create Memorable Experiences
We are a small team, but have over 35 years of experience combined between us, and work intimately with our clients to give them the best possible service and go above and beyond satisfying their need for quality imported stone.
Arena Marble and Granite is the best when it comes to onyx flooring. Nobody can compete with them, they provide unmatched warranties and easy installation. Their prices are very reasonable as well. If you're looking for a new floor, Arena Marble and Granite is definitely the way to go!
From the moment I walked into Arena Marble and Granite, I knew that this was the place for me. Their showroom is immaculately kept, every inch of marble shines in their polished display cases. They have a variety of colors and textures to choose from, and their staff is very knowledgeable when it comes to all different types of marble countertops. In my house, I have a lot of places where they did a great work.
I had been searching for the perfect company to do my marble backsplash and found Arena Marble and Granite. They were highly recommended by friends, so I made an appointment to see their work in person. I loved everything I saw related to marble countertops - and they really know their stuff! The installers were on time, professional, and did a flawless job. I can't recommend them enough!
Jason A. Mayer
2022-08-24
I was aware that having an onyx floor would be difficult to maintain, but we still wanted it. Arena Marble and Granite built upon our onyx flooring ideas and fully changed our interior patio appearance. We appreciate your exceptional service; our new onyx flooring patio never ceases to astound our visitors.
Maria H. Edwards
2022-08-22
The limestone countertops in our kitchen are gorgeous. The limestone finish gives our space a more contemporary and airy feel. With our kitchen, you did a great job. We enthusiastically recommend Arena Marble and Granite work.
We wanted a sturdy, long-lasting countertop that would require only minimal upkeep. Our experience with the Arena Marble and Granite crew's quality and skill level in supplying us with the best granite countertops has been nothing short of exceptional. They always had the knowledge required to maintain granite countertops as well as cheerful customer assistance. Arena Marble and Granite, thank you very much!
Charlotte Hope
2022-08-03
My goal of remodeling my kitchen and adding granite countertops was realized thanks to this fantastic team of specialists who paid attention to every aspect of the design. I couldn't be more pleased.
Nicole Hammerschmidt
2022-07-22
We'd always wanted our kitchen counters to be more modern, so having marble countertops installed was a fantastic idea. You came up with an offer we couldn't reject. Surprisingly, he did an excellent job.
Their internet showroom, which features onyx flooring and other trendy new flooring, contains the most intriguing and appealing information for home or business remodeling. That's how we improved the entrance floor in my house, and the onix flooring we chose made the space feel more luxury and visually appealing.
Carrie J. Jarvis
2022-07-16
The limestone countertops gave my bathroom a very sophisticated and luxurious looking. Arena Marble and Granite had numerous color and texture options, but I was well-advised according to my project. I got a great deal and a unique product that was only available online in other stores. If your project´s dream is to have new flooring, countertops, or walls of natural stones, this is the store to go.
Call Us Today! Visit Us In Newbury Park!
---
(805) 375-2771
---
Serving the greater Los Angeles, Ventura County and beyond with the highest quality, largest selection of natural stone at competitive prices.