Kitchen Remodeling Service:  Redefine Your Space with Arena Marble and Granite
Step into a world of possibilities with the kitchen countertop remodel, and let us be your partner in creating the space of your dreams. Welcome, to Arena Marble & Granite, where passion and expertise come together to bring your vision to life. We understand that your home is more than just a place; it's an expression of your style, a sanctuary where memories are made. That's why we're here to offer exceptional solutions tailored to your unique needs. Whether it's a bathroom remodel, a kitchen transformation, or any other home improvement project, our dedicated team of professionals is ready to turn your ideas into reality. Get ready to embark on a journey of creativity, craftsmanship, and unparalleled service. Let's make your dream space a reality.
Kitchen Remodel, Ca
Quality Craftsmanship: Transforming Your Kitchen with Skill and Precision
Our skilled artisans have years of experience in countertop fabrication and installation, ensuring precision and attention to detail in every project. We take pride in delivering outstanding craftsmanship that transforms your kitchen into a stunning space.
Custom Designs: Tailoring Your Kitchen to Reflect Your Style
Every kitchen is unique, and we believe in creating custom designs that reflect your taste and lifestyle. Our design experts will collaborate with you to understand your vision and develop innovative solutions that optimize functionality and aesthetics. Whether you prefer a sleek modern design or a timeless traditional look, we can bring your ideas to life.
Why Choose Us for Your Kitchen Countertop Remodeling
Kitchen Countertop Installation: Professional Service for a Flawless Finish
At Arena Marble & Granite, we take great pride in offering top-notch kitchen countertop installation services that guarantee a flawless finish. Our team of highly skilled installers, with their extensive experience, expertly handle every aspect of the installation process. From precise measurements to meticulous alignment and installation, we leave no stone unturned to ensure attention to detail and deliver a seamless and exquisite result.
During the installation process, our knowledgeable experts handle the countertops with utmost care, ensuring a perfect fit within your kitchen space. Employing advanced techniques and tools, we ensure accurate placement and secure installation. Our aim is not only to enhance the aesthetic appeal of your kitchen but also to provide countertops that can withstand the rigors of daily use.
With our professional installation service, you can have complete peace of mind, knowing that your kitchen countertops will be installed with utmost precision and expertise. We are committed to achieving excellence in every project, and our unwavering dedication to quality craftsmanship shines through in the final product.
Kitchen Countertop Maintenance: Tips for Keeping Your Countertops Looking Beautiful
Once your new kitchen countertops are installed, it's vital to maintain their beauty and longevity. Proper maintenance plays a crucial role in preserving the quality and appearance of your countertops for years to come. Here are some essential tips for keeping your kitchen countertops looking beautiful:
Regular Cleaning: Clean your countertops regularly using a mild, non-abrasive cleaner or a mixture of warm water and mild dish soap. Avoid using harsh chemicals or abrasive cleaners that can damage the surface.
Use Cutting Boards: Always use cutting boards or chopping blocks when working with knives or other sharp utensils to prevent scratches and dents.
Wipe Spills Promptly: Accidental spills can happen in the kitchen. To avoid potential stains or damage, wipe up spills promptly using a soft cloth or paper towel.
Avoid Extreme Heat: While our countertops are heat-resistant, it's still recommended to use trivets or hot pads when placing hot pots, pans, or baking sheets on the surface. This precaution helps protect the countertop from thermal shock.
Protect from Chemicals: Avoid exposing your countertops to harsh chemicals, such as strong acids or abrasive cleaners. These substances can cause discoloration or damage to the surface.
Sealant Maintenance: Some countertop materials may require periodic resealing to maintain their protective barrier. Follow the manufacturer's guidelines for sealant maintenance and reapplication.
By following these maintenance tips, you can preserve the beauty and durability of your kitchen countertops. Our team is always here to provide guidance and support if you have any questions or concerns about countertop maintenance.
Why Choose Us: Seamless Installation for a Polished Finish
A flawless installation is crucial for achieving a polished and professional result. Our experienced installers have the expertise to handle every aspect of the kitchen remodel process. We take precise measurements, ensure proper alignment, and meticulously install the countertops, leaving you with a seamless and beautiful finished product.
Our Kitchen Countertop Materials
Extensive Material Selection: Exploring the Beauty and Durability of Countertop Options
We offer extensive high-quality materials for your kitchen remodel, including quartzite, granite, quartz, soapstone, and porcelain. Each material offers its unique beauty, durability, and functionality. Our knowledgeable team can guide you in selecting the perfect fabric that suits your style, needs, and budget.
Quartzite Countertops: Natural Elegance and Resilience for Your Kitchen
Natural Elegance and Resilience for Your Kitchen Known for their natural beauty and durability, quartzite countertops add elegance to any kitchen. It is a natural stone highly resistant to heat, scratches, and stains, making it an ideal choice for busy kitchens. With unique veining and color variations, quartzite countertops create a luxurious and sophisticated look.
Granite Countertops: Timeless Appeal and Enduring Strength
Timeless Appeal and Enduring Strength With its timeless appeal and durability, granite is popular for homeowners seeking a classic and resilient countertop material for a kitchen remodel. It allows you to find the perfect match for your kitchen style. Granite countertops are available in various colors and patterns. Not only is granite resistant to heat and scratches, but it also adds a touch of luxury and elegance to your space.
Quartz Countertops: Combining Beauty and Durability for Modern Kitchens
Combining Beauty and Durability for Modern Kitchens Engineered quartz offers a wide range of colors and patterns, combining the beauty of natural stone with enhanced durability and low maintenance. It results in a non-porous surface resistant to stains, scratches, and heat. Quartz countertops are manufactured by combining crushed quartz with resin. With its consistent color and pattern options, quartz is a versatile and contemporary option for remodeling modern kitchen.
Soapstone Countertops: Adding Rustic Charm and Character to Your Kitchen
Adding Rustic Charm and Character to Your Kitchen, these countertops bring a rustic charm to your kitchen with their smooth feel, heat resistance, and natural color variations. Soapstone is a soft and non-porous stone resistant to stains and bacteria growth. Over time, soapstone develops a rich patina that adds character to your kitchen. Whether you prefer a traditional or farmhouse-style kitchen remodel, soapstone countertops can create a warm and inviting atmosphere.
Porcelain Countertops: Versatility and Contemporary Design for Your Remodel
Versatility and Contemporary Design for Your Remodel Porcelain countertops offer versatility, durability, and a wide array of design options for a kitchen remodel, making them popular in modern kitchens. Porcelain is an artificial material created by firing clay at high temperatures. It is highly resistant to scratches, stains, and heat. With its sleek and seamless appearance, porcelain countertops can enhance the aesthetics of any contemporary kitchen.
Our Kitchen Countertop Remodeling Process
Our Kitchen Countertop Remodeling Process: Creating Your Dream Space Step by Step
At Arena Marble & Granite, we systematically ensure a smooth and successful kitchen countertop remodeling project. Our process includes the following steps:
1. Initial Consultation
We begin with a comprehensive consultation to understand your needs, preferences, and budget. Our experts will discuss your vision, assess your existing kitchen, and offer personalized recommendations to transform your countertops.
2. Design and Material Selection
Based on your preferences, we will collaborate to create a custom design and select the most suitable materials. We will present you with samples, discuss color options, and guide you in making informed decisions that align with your style and budget.
3. Measurement and Templating
Our professional team will take precise measurements of your kitchen to ensure accurate fabrication and a perfect fit. We use advanced technology and techniques to create detailed templates that capture every aspect of your countertops.
4. Fabrication
With our state-of-the-art fabrication facility, we will craft your countertops with meticulous attention to detail. Our skilled artisans will cut, shape, and finish the materials according to your design specifications, ensuring precision and quality.
5. Installation
Experienced installers will carefully install your new countertops, paying close attention to every detail. We work efficiently and professionally to minimize disruption and deliver a seamless installation. We ensure your countertops are securely placed and adequately sealed for long-lasting durability.
6. Finishing Touches
Once the installation is complete, we take care of the finishing touches to ensure your countertops are ready. We clean the surfaces, polish them to a smooth shine, and address any final adjustments or requests you may have.
Contact Us for Your Kitchen Countertop Remodeling Needs
Taj Mahal Quartzite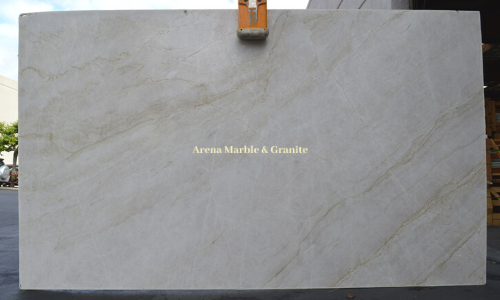 125 x 76 = 65.97 sqft
Latte Quartzite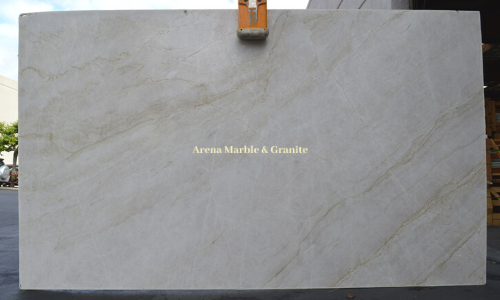 127 x 77 = 67.91 sqft
Fusion Quartzite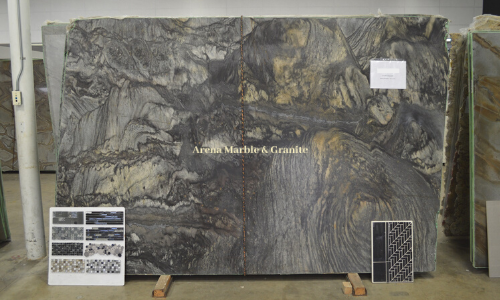 125 x 76 = 65.97 sqft
Fusion WOW Quartzite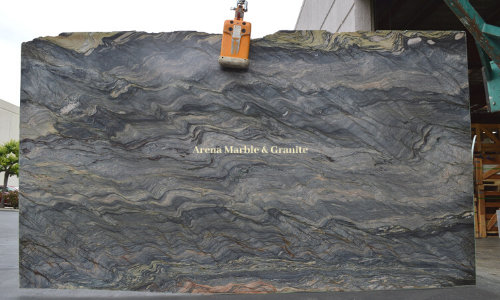 125 x 76 = 65.97 sqft
Crystal White Quartzite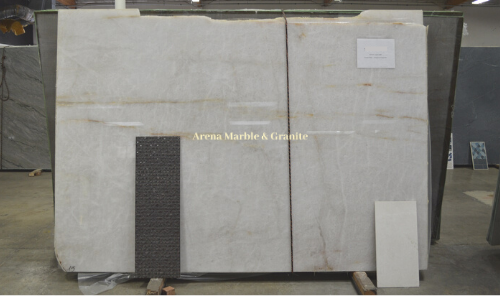 107 x 72 = 53.50 sqft
Misty Quartzite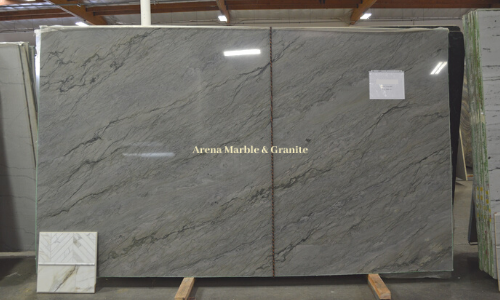 107 x 72 = 53.50 sqft
Opus White Quartzite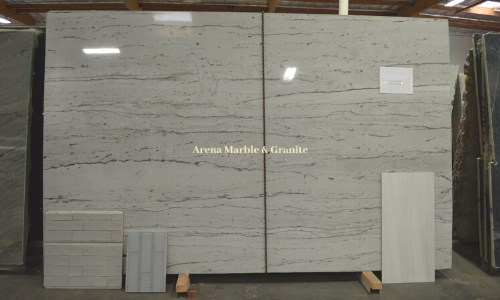 128 x 81 = 72.00 sqft
Ocean Pearl Quartzite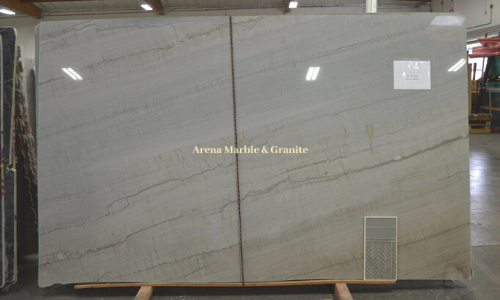 128 x 78 = 69.33 sqft
Illusion In Motion Quartzite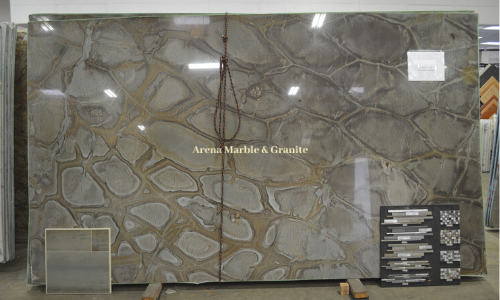 125 x 69 = 59.89 sqft
Perla Venato Quartzite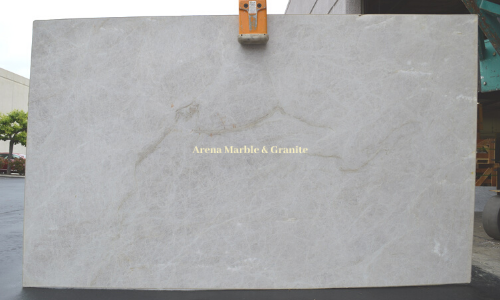 125 x 78 = 67.71 sqft
Calacatta Lux Quartzite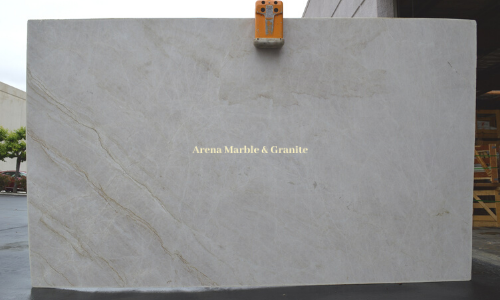 129 x 76 = 68.08 sqft
Illusion Quartzite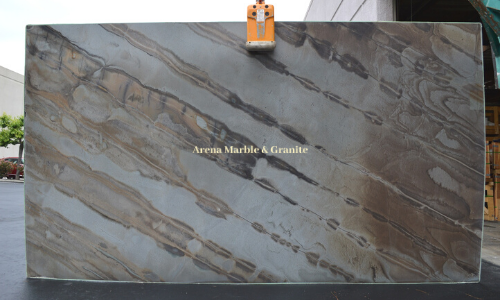 132 x 74 = 67.83 sqft
Cobalt Quartzite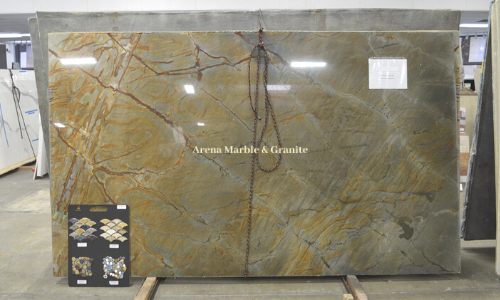 125 x 7 = 67.71 sqft
Calacatta Lux Quartzite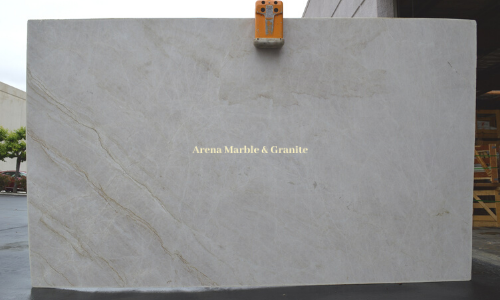 129 x 76 = 68.08 sqft
TESTIMONIALS
We Create Memorable Experiences
We are a small team, but we have over 35 years of combined experience and work intimately with our clients to give them the best possible service and go above and beyond satisfying their need for quality imported stone.
Arena Marble and Granite is the best when it comes to onyx flooring. Nobody can compete with them, they provide unmatched warranties and easy installation. Their prices are very reasonable as well. If you're looking for a new floor, Arena Marble and Granite is definitely the way to go!
From the moment I walked into Arena Marble and Granite, I knew that this was the place for me. Their showroom is immaculately kept, every inch of marble shines in their polished display cases. They have a variety of colors and textures to choose from, and their staff is very knowledgeable when it comes to all different types of marble countertops. In my house, I have a lot of places where they did a great work.
I had been searching for the perfect company to do my marble backsplash and found Arena Marble and Granite. They were highly recommended by friends, so I made an appointment to see their work in person. I loved everything I saw related to marble countertops - and they really know their stuff! The installers were on time, professional, and did a flawless job. I can't recommend them enough!
Jason A. Mayer
2022-08-24
I was aware that having an onyx floor would be difficult to maintain, but we still wanted it. Arena Marble and Granite built upon our onyx flooring ideas and fully changed our interior patio appearance. We appreciate your exceptional service; our new onyx flooring patio never ceases to astound our visitors.
Maria H. Edwards
2022-08-22
The limestone countertops in our kitchen are gorgeous. The limestone finish gives our space a more contemporary and airy feel. With our kitchen, you did a great job. We enthusiastically recommend Arena Marble and Granite work.
We wanted a sturdy, long-lasting countertop that would require only minimal upkeep. Our experience with the Arena Marble and Granite crew's quality and skill level in supplying us with the best granite countertops has been nothing short of exceptional. They always had the knowledge required to maintain granite countertops as well as cheerful customer assistance. Arena Marble and Granite, thank you very much!
Charlotte Hope
2022-08-03
My goal of remodeling my kitchen and adding granite countertops was realized thanks to this fantastic team of specialists who paid attention to every aspect of the design. I couldn't be more pleased.
Nicole Hammerschmidt
2022-07-22
We'd always wanted our kitchen counters to be more modern, so having marble countertops installed was a fantastic idea. You came up with an offer we couldn't reject. Surprisingly, he did an excellent job.
Their internet showroom, which features onyx flooring and other trendy new flooring, contains the most intriguing and appealing information for home or business remodeling. That's how we improved the entrance floor in my house, and the onix flooring we chose made the space feel more luxury and visually appealing.
Carrie J. Jarvis
2022-07-16
The limestone countertops gave my bathroom a very sophisticated and luxurious looking. Arena Marble and Granite had numerous color and texture options, but I was well-advised according to my project. I got a great deal and a unique product that was only available online in other stores. If your project´s dream is to have new flooring, countertops, or walls of natural stones, this is the store to go.
Call Us Today! Visit Us In Newbury Park!
---
(805) 375-2771
---
Serving the greater Los Angeles, Ventura County, and beyond with the highest quality, largest selection of natural stone at competitive prices.