________________________________________________________________________________________________________________________________________________________
Unveiling the Beauty: Exceptional Bathroom Remodel Services
Transform Your Bathroom with Exceptional Remodeling Services
Embark on a journey of transformation with our unparalleled bathroom countertop remodel services. Explore a world of possibilities as we breathe new life into your bathroom, creating a space that reflects your unique style and surpasses your expectations. At Arena Marble And Granite, we craft breathtaking bathrooms that blend functionality, elegance, and innovation seamlessly. With our extensive range of exquisite materials, including quartzite, granite, marble, travertine, quartz, soapstone, porcelain, and limestone, we invite you to reimagine your bathroom and embark on an extraordinary remodeling experience.
Revel in Opulence: Vanity Top Installation
Immerse yourself in the epitome of luxury with our bespoke vanity top installation services. Immerse yourself in refined materials like quartzite, granite, marble, travertine, quartz, soapstone, porcelain, and limestone. Our skilled artisans will meticulously craft a customized vanity top that seamlessly integrates with your bathroom's design, elevating it to new levels of sophistication. Experience the perfect fusion of aesthetics and functionality as we create a vanity top that embodies your style and enhances your daily routines.
A Symphony of Elegance: Shower Remodel
Step into a sanctuary of serenity with our exquisite shower remodel services. Allow us to guide you through a curated selection of materials, such as quartzite slabs, granite slabs, marble tiles or slabs, travertine tiles or slabs, quartz slabs, soapstone slabs, porcelain tiles or slabs, and limestone tiles or slabs. Imbue your shower with timeless beauty and captivating design tailored to your preferences. From contemporary masterpieces to classic retreats, we transform your shower into a harmonious haven where you can escape, rejuvenate, and immerse yourself in tranquility.
Elevate Your Bathroom Design with Stunning Countertops
Are you ready to take your bathroom design to the next level? Our stunning countertops will elevate the aesthetics of your bathroom, making it a true masterpiece. With a wide range of materials and styles, including granite, marble, quartz, and more, you can create a bathroom that exudes luxury and sophistication. Our expert craftsmen will ensure that every countertop is meticulously installed, providing a seamless and flawless finish. Elevate your bathroom design and make a statement with our stunning countertops.
Transform Your Bathroom with Custom Bathroom Countertops
Looking for a unique and personalized touch for your bathroom remodel? Our custom bathroom countertops are the perfect solution. We understand that every bathroom is different, so we offer a wide range of customization options. From choosing the ideal material, color, and edge style to incorporating unique features like built-in sinks or integrated lighting, our team will work closely with you to bring your vision to life. Transform your bathroom into a one-of-a-kind space that reflects your style and meets your specific needs with our custom bathroom countertops.
Discover the Beauty of Bathroom Countertop Options
Unleash your creativity and discover the beauty of our diverse bathroom countertop options. Whether you prefer the timeless elegance of marble, the sleek and modern look of quartz, or the natural charm of granite, we have the perfect countertop to match your style and preferences. Our extensive selection of materials, colors, and patterns ensures you can find the ideal countertop to complement your bathroom's design theme. Explore our range of bathroom countertop options and unlock the potential of your space with a touch of elegance and beauty.
Enhance Your Bathroom's Aesthetics with Exquisite Countertops
Our exquisite countertops add a touch of elegance and sophistication to your bathroom. Our collection features a variety of materials, including granite, marble, quartz, and more, each carefully selected for its beauty and durability. Whether you prefer a minimalist and sleek design or a bold and dramatic statement, our range of countertop options has something for everyone. With expert craftsmanship and attention to detail, we ensure that every countertop is installed flawlessly, enhancing the overall aesthetics of your bathroom. Enhance your space and create a bathroom that truly stands out with our exquisite countertops.
Choose from a Variety of Bathroom Countertops for Your Remodeling Project
Regarding your bathroom remodeling project, we offer a wide variety of bathroom countertops to suit your needs. From durable and heat-resistant granite to elegant and luxurious marble, you can choose the perfect countertop material that matches your style and requirements. Our team of experts will guide you through the selection process, providing valuable insights and recommendations to help you make an informed decision. With our extensive range of options, you can find the ideal bathroom countertop that combines functionality and aesthetics.
Experience Luxury and Functionality with Premium Bathroom Countertops
Indulge in the perfect blend of luxury and functionality with our premium bathroom countertops. Crafted from high-quality materials and meticulously finished, our countertops not only enhance the beauty of your bathroom but also offer durability and practicality. Whether you need ample counter space for your daily routines or a statement piece that adds elegance to your bathroom, our premium countertops deliver on both fronts. Experience our bathroom countertops' luxury and functionality in your space, and enjoy a bathroom that exceeds your expectations.
Find the Perfect Bathroom Countertop Material to Suit Your Style
Are you searching for the perfect bathroom countertop material that matches your unique style? Look no further. Our wide selection of materials, including quartz, granite, marble, and more, ensures you can find the ideal countertop to suit your taste. Whether you prefer a modern, minimalist design or a classic, timeless look, we have the suitable material. Our knowledgeable team will assist you in exploring different options, discussing the pros and cons of each material, and helping you find the perfect balance between style, durability, and maintenance requirements.
Discover the Versatility of Bathroom Countertop Remodeling for Any Design Scheme
Bathroom countertops are not just functional elements; they also contribute significantly to the overall design scheme of your bathroom. With our versatile bathroom countertops, you can create the perfect design. Our versatile bathroom countertops can match any design scheme, whether sleek and contemporary or warm and inviting. Explore their versatility with various colors, textures, and finishes to create a space that reflects your unique style.
Your Personalized Bathroom Countertop Remodel Journey
At Arena Marble and Granite, we believe in delivering a truly personalized and immersive bathroom countertop remodeling experience. Here's a glimpse into our process:
1. Inspiration and Collaboration
We embark on a collaborative journey, taking the time to understand your vision, desires, and aspirations. Together, we explore inspirations, exchange ideas, and refine concepts, ensuring your dream bathroom becomes tangible.
2. Innovative Design Solutions
Our talented designers translate your vision into captivating designs.With advanced technology, we provide stunning 3D renderings and detailed plans for you to visualize and decide on your future bathroom.
3. Material Selection and Artistry
Choose from our premium materials, handpicked for quality and aesthetic appeal. Our artisans sculpt each element perfectly, highlighting marble's allure, quartz's elegance, and granite's beauty.
4. Seamless Execution
Our experienced team of professionals executes the remodeling process with meticulous attention to detail and unwavering dedication. We transform your dream bathroom seamlessly, from removing old fixtures to installing new elements, ensuring a stress-free and remarkable renovation.
Arena Marble & Granite
A place to experience designs that are uniquely you!
COUNTERTOPS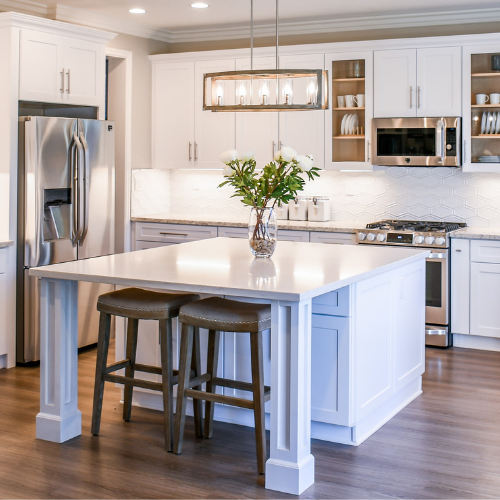 We offer various natural Stone Countertops, such as Quartzite, Granite, Marble, Soapstone, Onyx, and Travertine. We also provide Quartz, Porcelain and PreFab.
TILE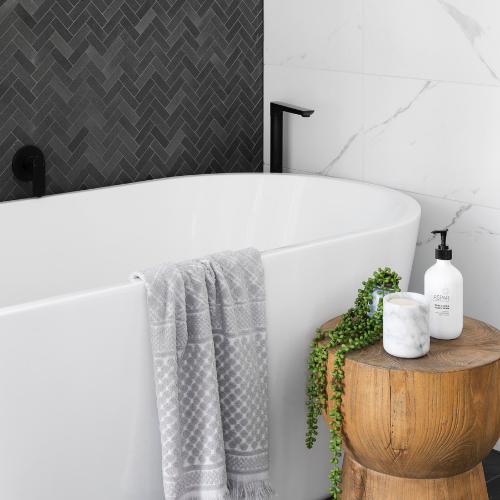 We offer a wide variety of Tiles, such as Porcelain, Ceramic, Natural Stone and Glass. Take a look at our collection online or come visit us in Newbury Park.
OTHER PRODUCTS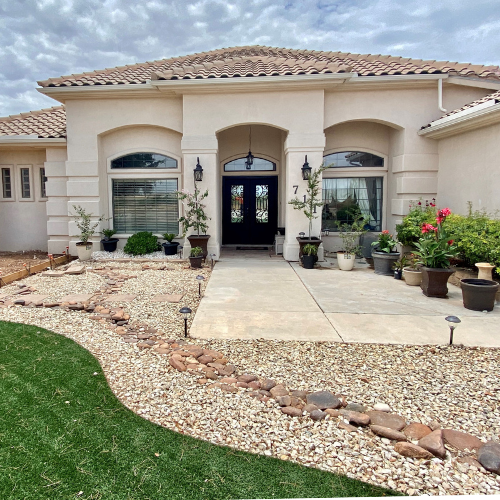 Our sister company Eris Home Products offers Bi-fold Doors, Iron Doors and a variety of Vanities. Take a look at their selection or visit our warehouse in Newbury Park.