Beautiful Quartzite Selection
A place to experience designs that are uniquely you!
Quartzite is a hard, non-foliated metamorphic rock which was originally pure quartz sandstone. Sandstone is converted into quartzite through heating and pressure usually related to tectonic compression within orogenic belts.
A FEW FACTS ABOUT QUARTZITE
Quartzite slabs are rather stunning with several remarkable color variations
Quartzite can mimic marble, granite and sandstone
Quartzite is extremely hard and durable, but is not an indestructible material
Quartzite is permeable and requires daily maintenance
Taj Mahal Quartzite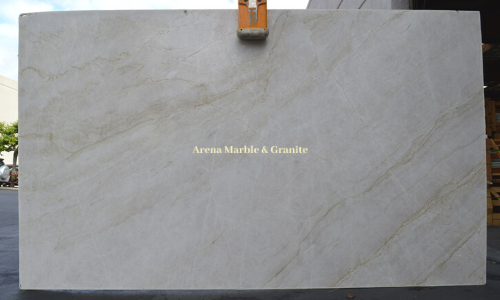 125 x 76 = 65.97 sqft
Latte Quartzite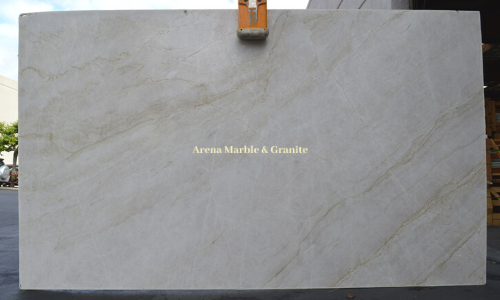 127 x 77 = 67.91 sqft
Fusion Quartzite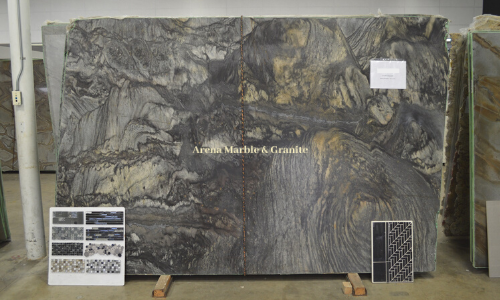 125 x 76 = 65.97 sqft
Fusion WOW Quartzite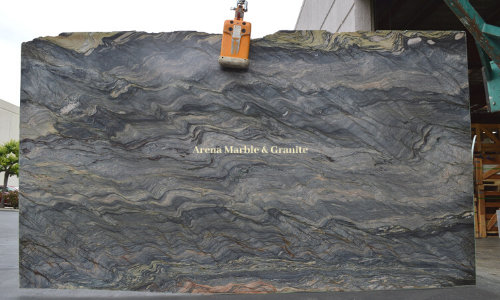 125 x 76 = 65.97 sqft
Crystal White Quartzite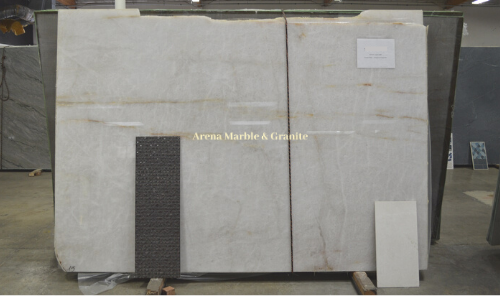 107 x 72 = 53.50 sqft
Misty Quartzite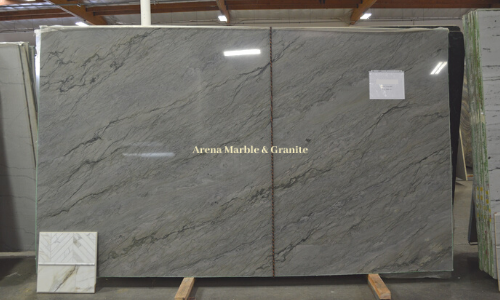 107 x 72 = 53.50 sqft
Opus White Quartzite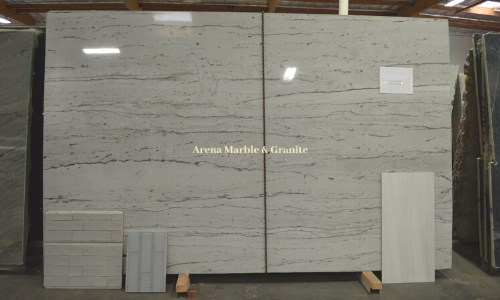 128 x 81 = 72.00 sqft
Ocean Pearl Quartzite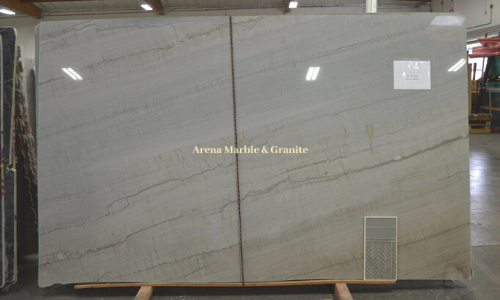 128 x 78 = 69.33 sqft
Illusion In Motion Quartzite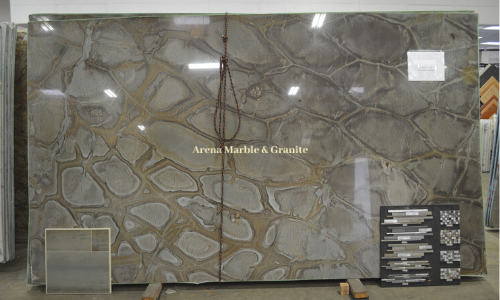 125 x 69 = 59.89 sqft
Perla Venato Quartzite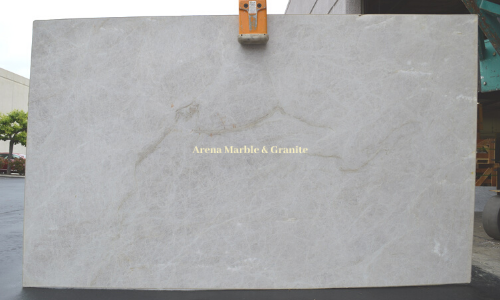 125 x 78 = 67.71 sqft
Calacatta Lux Quartzite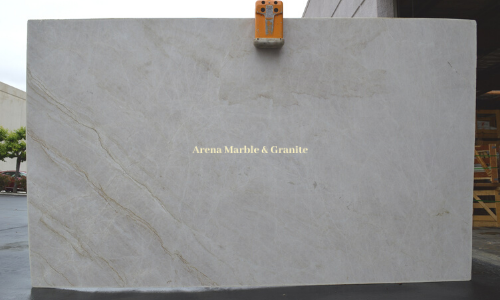 129 x 76 = 68.08 sqft
Illusion Quartzite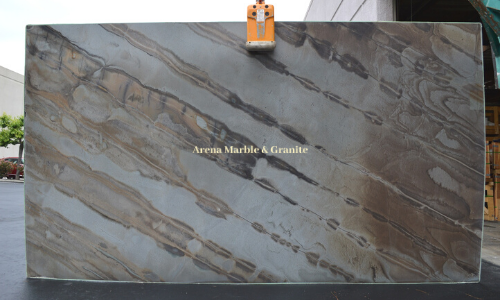 132 x 74 = 67.83 sqft
Cobalt Quartzite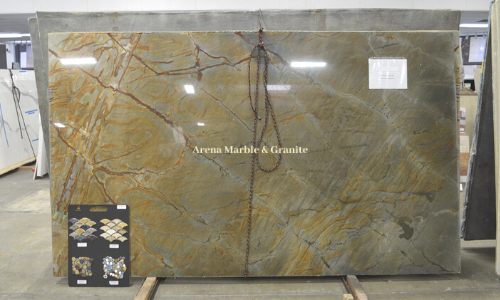 125 x 7 = 67.71 sqft
Calacatta Lux Quartzite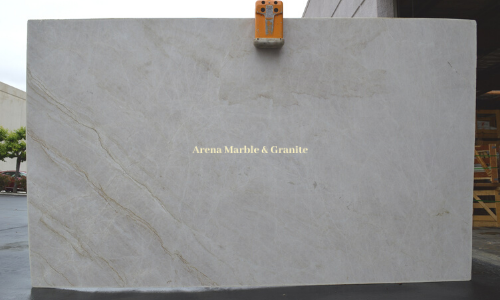 129 x 76 = 68.08 sqft
TESTIMONIALS
We Create Memorable Experiences
We are a small team, but have over 35 years of experience combined between us, and work intimately with our clients to give them the best possible service and go above and beyond satisfying their need for quality imported stone.
Alexander Ramirez
2022-03-02
Verified
I attest that Arena Marble products have unsurpassed quality. A few days ago I bought quartz to remodel my kitchen and it has been a great purchase.
Verified
Quality products, the treatment I received was the best, I am very pleased with Arena Marble.
Alejandro Merz
2022-02-11
Verified
Very good quality in materials. I really trust your products.
Verified
Arena and Johanna have been fantastic. Wonderful service, good communication and a solid product. We bought countertops and tile from the Newbury Park store and were very happy with everything. I have since referred a handful of people to Johanna who have had similarly positive experiences. Thanks!!!
Verified
Easy and efficient from start to finish. I was able to arrange everything remotely and Reza did his best to accommodate my delivery and installation time frame. We had a great experience with Arena Marble & Granite.
Verified
Reza has been the most charming, attentive, and helpful of design specialist yet. he has worked extremely close to ensure our needs and wants are attained within the large stone selection they have to offer. Definitely have had a great experience and highly recommend Quality Arena Marble & Granite ​to anyone looking for genuine service and an abundance of selection
Calvin Deangelo
2021-11-23
Verified
Went in today with no appointment. The receptionist was very nice and greet us. All employees where really nice at this store.Reza was very knowledgeable with all types of stone they carried very patience. I would recommend Quality Marble and Grantie to everyone, they have a great Collection of counter tops to pick from.
Verified
It was very apparent he had good knowledge of the materials which was super helpful. Visited several Quartz wharehouses recently. This was definitely one of the best show room, selection and customer service.
Verified
Great customer service and awesome selection.
Verified
Excellent people. Excellent service. I plan to go back and buy all the materials for my kitchen I bought it for my bathroom already and I love it.
Call Us Today! Visit Us In Newbury Park!
---
(805) 375-2771
---
Serving the greater Los Angeles, Ventura County and beyond with the highest quality, largest selection of natural stone at competitive prices.